Bridge Base Online (BBO) now permits players to transfer money in the form of BB $ to organisers of special events, like the team games organised by MasterBridge Online.
If you wish to pay MasterBridge Online for an upcoming event, please follow these steps:
To pay for the Aug 23 Team event, the cost is $BB 10 per player – you can pay for 1, 2, 3 or all 4 players in one transaction.
---
STEP 1
First of all make sure you have a sufficient balance of BB$ in your account.
---
STEP 2
When you log into BBO, you should see this little window pop up in the bottom corner
This tells you your account balance.
---
STEP 3
If you have enough funds in your balance, you can pay for the special event. Next click on the blue BB$ button to the left of your name up the top of the screen.
When the next screen pops up, click on Transfer BB$
Now, just fill in a few details on the next page and then click on the blue Transfer button(note: "tourneytd" is the MasterBridge Online host account).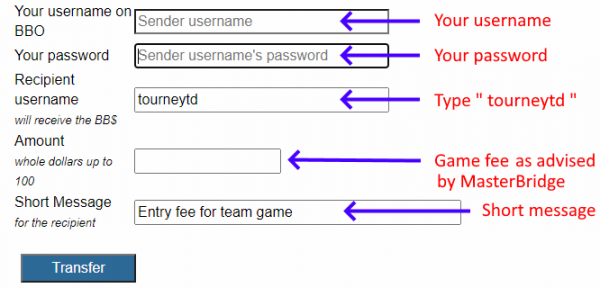 The short message should be "Paying for Bob Smith"  or "Paying for Bob + Carol" or "Paying for all of team 6"
You can find your team number here
If you had not enough funds in your balance (STEP 2 above), use the PURCHASE BB $ OPTION FIRST BEFORE COMPLETING STEP 3
IMPORTANT: It is better to buy BBO dollars on a regular computer (laptop or desktop) because Apple/Google apply a surcharge when you buy BB $ on a phone or tablet.
---
That's it. You should receive a confirmation message from BBO almost instantly.
You will also receive a message (a little while later) from MasterBridge Online acknowledging receipt of your payment.